Health Promotion Specialist Jane Prince Smith presented the findings of a survey on youth behavior at the Pojoaque Valley school board's meeting last month.
The Youth Risk Behavior Survey 2000 was administered to 177 students -- 75 boys and 102 girls -- in grades eight through 12. Sixty-one percent of the students surveyed were age 15 or 16; 31 percent were 17 or older; and 8 percent were age 14.
The survey addresses questions regarding seat-belt use, tobacco use, alcohol use, drug use, weapons and violence, sexual behaviors, diet and exercise habits.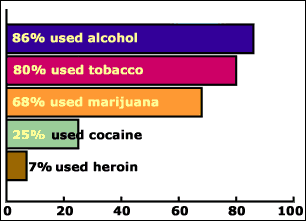 Results of the Youth Risk Behavior Survey 2000
While society focuses primarily on marijuana, cocaine & heroin,
the biggest problems are alcohol and tobacco.
Seventy-eight percent of students said they wear seat belts most or all of the time; 63 percent have ridden in a vehicle in which the driver has been drinking; and 72 percent said they have driven after having had one or more drinks.
Eighty-seven percent said they have not carried a weapon in the last 30 days; 8 percent said they have carried a weapon two or more times in the last 30 days; and 92 percent said they have not been threatened by another student at school in the last year. Of the students questioned, 43 percent have been in at least one fight in the past year; less than 5 percent indicated that they were actually injured; and 16 percent said they had been in a fight at school in the past year.
Regarding emotional health, 77 percent reported feeling worried or anxious in the past 30 days; 62 percent reported feeling depressed; 10 percent said they had considered suicide; and 8 percent said they had actually planned it.
Eighty percent of the teens surveyed said they had tried cigarettes; 43 percent said they started smoking between the ages of 11 and 14; 32 percent said they had smoked within the last 30 days; 3 percent said they smoke more than six cigarettes a day; 22 percent said they smoke regularly -- meaning one or more cigarettes per day; 90 percent said they thought it was wrong for their parents to smoke, but only 60 percent thought it was wrong for they themselves to smoke; 65 percent of the students reported it was very easy to get cigarettes.
Eighty-six percent said they have tried alcohol; 57 percent said they had tried it more than 10 times; 42 percent said they had their first drink between the ages of 11 and 14; 50 percent of the students said they had consumed alcohol in the past 30 days; of those who drank, 47 percent did so six or more times. Nearly 16 percent reported to have consumed alcohol more than 20 times; 41 percent reported to binge drinking -- consuming more than five drinks in two hours -- in the last 30 days. Seventy-seven percent said that it was easy to get alcohol.
Of the teens surveyed, 68 percent said they had tried marijuana; 46 percent said they have smoked it more than 10 times; 56 percent said they have used marijuana more than three times. Of those who smoke marijuana, more than a quarter have done so more than 100 times; 64 percent said regular use is harmful; 76 percent said that marijuana is easy to get.
Responding to questions about other drugs, 75 percent said they have never tried cocaine; 93 percent said they have never tried heroin; and 76 percent said they know two or more adults who use drugs.
More than half of the students surveyed said they have engaged in sexual intercourse. Of those who are sexually active, 45 percent said they have had three or more partners; 37 percent said they used alcohol or drugs before sex; 62 percent said they used condoms; 81 percent said they used some form of birth control.
The remaining areas surveyed focused on diet, exercise, television hours and other elements of physical health and activity level. In these areas the surveyed students compared favorably with the state averages.