| | |
| --- | --- |
| FOR IMMEDIATE RELEASE | December 23, 1998 |
Albuquerque Tobacco Legislation Goes Into Effect
CONTACT: Scott Goold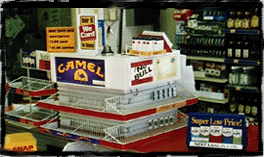 Bare Shelves

Mark the

Progress Against

Illegal Distribution

of Tobacco

Products
ALBUQUERQUE -- As of Monday, December 28, 1998, the amended Tobacco Products Ordinance takes effect. The new legislation, which was unanimously passed by the Albuquerque City Council in October, requires tobacco retailers in Albuquerque to move all tobacco products to a place where they are not accessible to the public without clerk assistance.
This ordinance applies to cigarettes, cigars, and smokeless and pipe tobacco. Stores that do not allow entry to minors, unless they are accompanied by an adult, are exempt.
The Multicultural Advocates for Social Change on Tobacco (MASCOT), a local tobacco control coalition, is currently working on an education campaign for tobacco retailers. The campaign consists of sending copies of the text of the new ordinance to stores with district or corporate offices.
In addition, MASCOT developed a brochure that will be mailed to 356 tobacco retailers in Albuquerque. The brochure contains information about merchant's obligations to comply with the new law, and penalties for not complying. For a copy of the brochure and link to official listing of ordinance, click here.
The Albuquerque Fire Marshal's Office is in charge of enforcing the new law. Fire Marshal Joe Zamora is committed to curbing youth access to tobacco products, and believes that enforcing the new law is worthwhile. "Our office will conduct inspections, and would like to see all stores in compliance as soon as possible," said Zamora.
Retailers with questions about their requirements may call the Fire Marshal's office at 888-8124. In addition, citizens noticing tobacco products that are still accessible to the public can report the name of the store to the Fire Marshal's office.